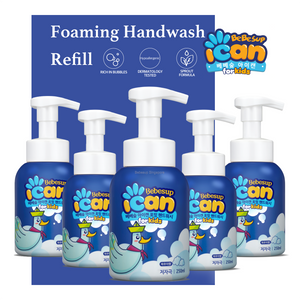 For children, the journey from cleaning up after using the bathroom to washing hands goes a long way. It is also not always fully understood by grown ups. Bebesup ICAN can help!
I CAN DO IT! Let our children clean themselves!
Bebesup ICAN products are presented in kids lovable design by Bebesup Baby Skin Lab to help children build healthy hygiene habits.
5 x ICAN Foaming Hand Wash, 250ml Powder Scented
The first step in my child's hygiene habit. Do not forget to wash your hands clean! Children between the ages of 3-10 should wash their hands themselves when they're coming back from outside! This is a foaming hand wash to help such kids to build a healthy sanitary habit.
Comes in powder scented or melon scented and rich in bubbles to help kids to thoroughly clean their hands and feel fresh. Kids friendly design to entice kids willingness to use and clean by themselves. 
ICAN Foaming Hand Wash includes sprout formula, safe cleansing for tender skins with plant-derived cleansing components. Dermatologically tested and hypoallergenic.
ICAN Products are made in Korea.