Bebesup Studies Baby's Skin
Bebesup is well aware of mother's heart and mind. Besides cleaning up the mess, mother wants to protect baby's skin.
Based on the ongoing research, BABY SKIN LAB has been conducting since 1995,  Bebesup studies baby skin to exclude chemical ingredients that can cause irritation to baby's skin and strives to supply safe products to our babies and children.
We have undergone tens of thousands of test with leading research staffs and Global Intertek, the world's largest test institution. As such, Bebesup is the best wet wipes and greatly loved by institutions and consumers. 
Mindfully tailored for Parents' Needs
ICAN for Kids
ICAN Handwash
I CAN DO IT! Let our children clean themselves!
Bebesup ICAN products are presented in kids lovable design by Bebesup Baby Skin Lab to help children build healthy hygiene habits.
More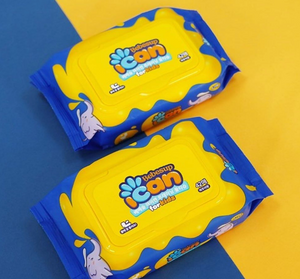 ICAN Training Wipes (Flushable)
For children, the journey from cleaning up after using the bathroom to washing hands goes a long way. It is also not always fully understood by grown ups. Bebesup ICAN can help!
More
Skin Care and Family CARE
Testimonials
Awesome quality and service! Spoke to the in charges and staff at the fair last week. Tried out Bebesup wipes and they come in different textures for your different needs. High volume of water and safe to face! niche product^^+ #instababy @aurorababelim loves it !

Jesse Ka
Bebesup wipes, the awesome wipes that I've chose for the 1st born since 2015. Never regretted since. From Zero, sensitive to gold, its not difficult to find the perfect wipes to care for their delicate skin. Just ordered more wipes to be ready to welcome the newborn this September.

A good diaper, nappy rash must go with a good wipe. Thanks for bringing such good wipes

‎Terrenz Huang‎
Bebesup wipes are great- my son has sensitive skin and these wipes work well for him. Extra points cos it smells good!

‎Harlina Samat‎
Bought Bebesup wipes from baby world fair.. Free from chemicals and thickness is great! Just found the perfect wipes for my newborn's skin!

Appreciate their wonderful and friendly service too! :)

‎MeiXian Love Caleb‎
Very good product with reliable quality and service! I am using it to clean up my baby and my face after removing make up. I think it is very soft and comfortable to apply on!

‎Luo Lin
Just want to give you feedback that the Bebesup Zero Wipes I bought were really good! Just the right amount of moisture without being too wet, and a large surface area to wipe. I also don't feel I'm dragging my baby's butt when I wipe so it feels soft enough... Really glad to discover Bebesup!

June Yang